Tag Archives:
personalization
A friend of mine, works for Blue Cross, recently mentioned that one vector of digital healthcare evolution is going to be what the industry calls…. "the quantified self." Looks like Nike—whose stock reached an all time high yesterday, leading up to this morning's announcement—jumped on with Nike Fuel. It is the trend toward value I wrote about in this post last year.
EZFace allows women to "try on" cosmetics in the store. The customer can take a photo of themselves, capturing her skin tone, hair and eye colors. She can then swipe a barcode and the item she has selected appears on the appropriate part of her face. The side of the screen has information about what she is testing and she can print, email or post the image to Facebook. She also gets recommendations on the right colors and products for her.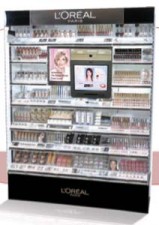 I haven't tried it to know if the experience is good but I like the idea because it appears to be very easy and convenient. The department store setting is perfect because I don't have any expectations of someone being there to help me so I'm willing to engage in a self-serve scenario. I am likely shopping there because I like the low prices not because I expect high-end service.
Walmart and Walgreens are currently testing the application in store. It makes sense for them because unlike department stores they don't have samples to try on. This is great from a business perspective as well. Customers will often decide not to buy the makeup (especially if it is a new adventuresome color) or they will open the package which results in damaged inventory (10% of cosmetics are damaged annually). View a video below of how it works or check out this WSJ Article.