Tag Archives:
kiosk
Guess puts iPads in stores to enhance shopping
Lifestyle apparel brand Guess is arming stores with iPads to enhance the overall shopping experience and generate additional sales. The iPads are mounted on rolling stands that serve as self-service kiosks to Guess' online resources for a wider product selection. Store associates can also roll the self-service kiosks into dressing rooms to visually display options and accessories to shoppers. Within the store, the application allows shoppers and store associates to browse various styles via the LookBook functionality and to select products for either immediate purchase or order online if the product is not available in the store. After hours, the iPad is set up to deliver training videos to store associates and managers. Guess has also deployed the iPad solution to it outside store activity including some events, including the recent Jingle Ball at the Staples Center in Los Angeles, and on a 6-week road show in Asia. Guess currently has iPads use in a dozen stores in the United States with plans to roll them out to additional locations this year.
See my prior post 5 Examples of Mobile Apps for Employees.
At Kohls a portion of the digital bonanza is coming from a somewhat unlikely location: within Kohl's brick-and-mortar stores. Kiosks installed chainwide in 2010 accounted for $30 million in sales during the 2010 fall season, according to CFO Wesley McDonald.
Read the full story.
This is a great proof point that consumers want more than a multi-channel experience. They want anywhere, anytime purchasing power.
EZFace allows women to "try on" cosmetics in the store. The customer can take a photo of themselves, capturing her skin tone, hair and eye colors. She can then swipe a barcode and the item she has selected appears on the appropriate part of her face. The side of the screen has information about what she is testing and she can print, email or post the image to Facebook. She also gets recommendations on the right colors and products for her.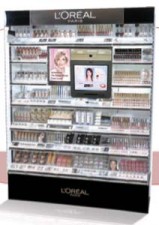 I haven't tried it to know if the experience is good but I like the idea because it appears to be very easy and convenient. The department store setting is perfect because I don't have any expectations of someone being there to help me so I'm willing to engage in a self-serve scenario. I am likely shopping there because I like the low prices not because I expect high-end service.
Walmart and Walgreens are currently testing the application in store. It makes sense for them because unlike department stores they don't have samples to try on. This is great from a business perspective as well. Customers will often decide not to buy the makeup (especially if it is a new adventuresome color) or they will open the package which results in damaged inventory (10% of cosmetics are damaged annually). View a video below of how it works or check out this WSJ Article.