Category Archives:
Super Cool

The Dutch artist Berndnaut Smilde has developed a way to create a small, perfect white cloud in the middle of a room. Read More
Check out this new bluetooth fridge magnet to order pizza. When customer's get it they sync the magnet to their mobile phone one, then whenever they want pizza they press the button on the fridge and their favorite order is automatically placed for delivery to their home (or office). The customer gets a confirmation text and then the pizza is delivered for dinner.
Istanbul Biennial

Carmelo Anthony debuts his new Jordan Melo M8 using 85 ft Explosive Water Projections of Melo on the Hudson River in New York City. (Nike)
Omni-channel continues to be redefined. Find coupons and deals around you in real-time using
Groupon BlackSuit
t. The app lets you hold your phone in front of an item to see if there are any related offers. This example gives a discount on closet organizers. Very cool.
Inspiring video by Corning on the future of displays…
The "Yahoo! Bus Stop Derby" is an integrated marketing campaign which challenges locals to play LCD touch-screen games at 20 high-traffic Muni shelters scattered around San Francisco. This innovative campaign boasts the first-ever interactive digital transit shelters in the U.S. From the early stages of the conception process, the Obscura Digital Team played a leadership role in the consultation, design, and creation of the system's specialized digital content management system and real-time user-metrics collection system.
I wonder how they are keeping the displays clean…
Yahoo! Bus Stop Derby from Obscura Digital on Vimeo.
I thought of this idea a few years ago when wandering through the Rio and seeing all the empty pole dancer platforms. Why not have holographic dancers – maybe even celebrities like Demi Moore in strip tease… I did a mock-up.
Lolita's Cantina is America's first holographic nightclub utilizing Digital Illusions, state-of-the-art fire retardant polymers and high-definition video.

Amazing animation used by Hans Rosling as he examines the correlation between income growth and life expectancy in 200 countries over the last 200 hundred years.
Not quite a prime time experience but I think provides a hint of the future…
EZFace allows women to "try on" cosmetics in the store. The customer can take a photo of themselves, capturing her skin tone, hair and eye colors. She can then swipe a barcode and the item she has selected appears on the appropriate part of her face. The side of the screen has information about what she is testing and she can print, email or post the image to Facebook. She also gets recommendations on the right colors and products for her.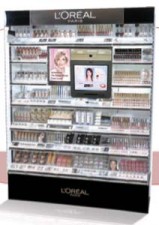 I haven't tried it to know if the experience is good but I like the idea because it appears to be very easy and convenient. The department store setting is perfect because I don't have any expectations of someone being there to help me so I'm willing to engage in a self-serve scenario. I am likely shopping there because I like the low prices not because I expect high-end service.
Walmart and Walgreens are currently testing the application in store. It makes sense for them because unlike department stores they don't have samples to try on. This is great from a business perspective as well. Customers will often decide not to buy the makeup (especially if it is a new adventuresome color) or they will open the package which results in damaged inventory (10% of cosmetics are damaged annually). View a video below of how it works or check out this WSJ Article.